*moved from my old blog*

one of the best things i've ever experienced in my life has been the famed san diego comic con. i was really involved with designer vinyl toys for a few years... i still love the toys & art but i'm not as crazy as i used to be. we're talking standing hours in line for an exclusive, limited edition toy. it was insane! those were some very fun times and i made a lot of friends all around the world, got to meet some of those friends and lots of artists & companies. there's no way i can possibly explain comic con except that it's a nerd paradise. there is nothing wrong with being a nerd, lots of people are nerds. what do you nerd out about? shoes? star wars? lego? disneyland? yea, you're a nerd about SOMETHING! comic con passes are harder to come by as the years go on and it gets more popular. it's even crazy to book a hotel. what do you expect when 100,000+ attendees come to san diego for a fun filled week. my first comic con experience was softened by tons of advice by hardcore, longtime con-goers. best advice i can give you? be prepared to be packed in like sardines (don't take the pushing and shoving personal) & be ready to do lots of waiting (for autographs, releases, panels - hell, even to get INSIDE the convention center). there will be a tons of people that forget to put on deodorant for the day so bring some febreeze. print out the exhibit map and highlight the areas you want to tackle, if you can put together a spreadsheet too - work on it! there is SO MUCH to see and do that you need an attack plan! it helps to go with friends or family or even make friends there! one of the best things about comic con is the shuttle service, it's free - take advantage! another good thing about the san diego convention center is it's in a beautiful location - you can walk just about anywhere in the downtown / gaslamp and shoreline area. bring cash too because there's tons of pedicabs. keep an eye or your ears out for other special events happening during the con. there are a ton of other free stuff like advance movie screenings, parties and art shows. here's one party you should definitely check out! my friends Dragatomi & SpankyStokes present to you THE FIRST ANNUAL KANPAI KARAOKE JAM! they know how to party, definitely a party you don't want to miss out on & they are giving out goodie bags! to those of you that are going to SDCC this year, you lucky punks! have a great time!!! take lots of pictures! if you are interested in the toy scene - you have to add SpankyStokes & supahcute to your daily reads!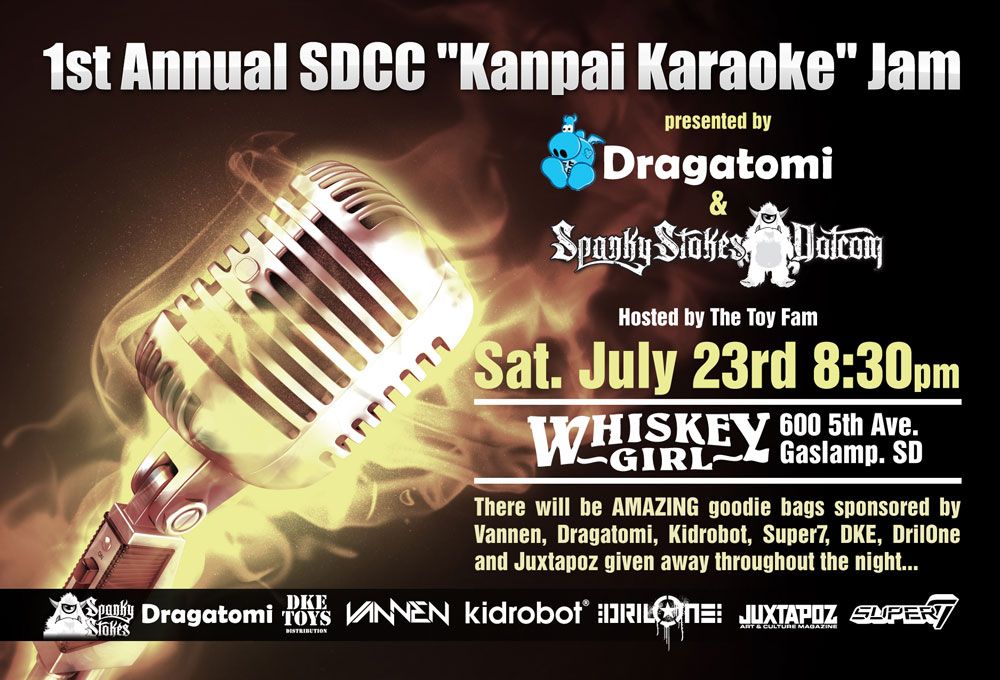 so while i'm sad i won't be there this year, i have some good memories from 2007 & 2008 to last our lifetime! and maybe... i'll see you all NEXT YEAR!
1. evil cheerleaders + elvis trooper, 2. NOICE!, 3. sorry monsters, zombies and troopers..., 4. giant robot booth, 5. hey you, 6. me = happy before the madness., 7. luke chueh, 8. wedgehead and ox with my boys, 9. i wonder who's her agent, 10. my young sdcc crew, 11. cute graff, 12. this was across our hotel, 13. tear drips by travis lampe & marshall by 64 colors, 14. can't resist the, 15. i say gryffindor but i could be wrong, 16. brandt peters minis

Labels: Dragatomi, Grass Hut, Kidrobot, San Diego Comic Con, SDCC, Supahcute.com, Uglydoll